The Access2Care Driver Log is available to generate and include with your Access2Care billing. It contains a log for each driver, on the date trips took place, in the date range selected.
Navigate to the Billing tab, then select the Reports icon.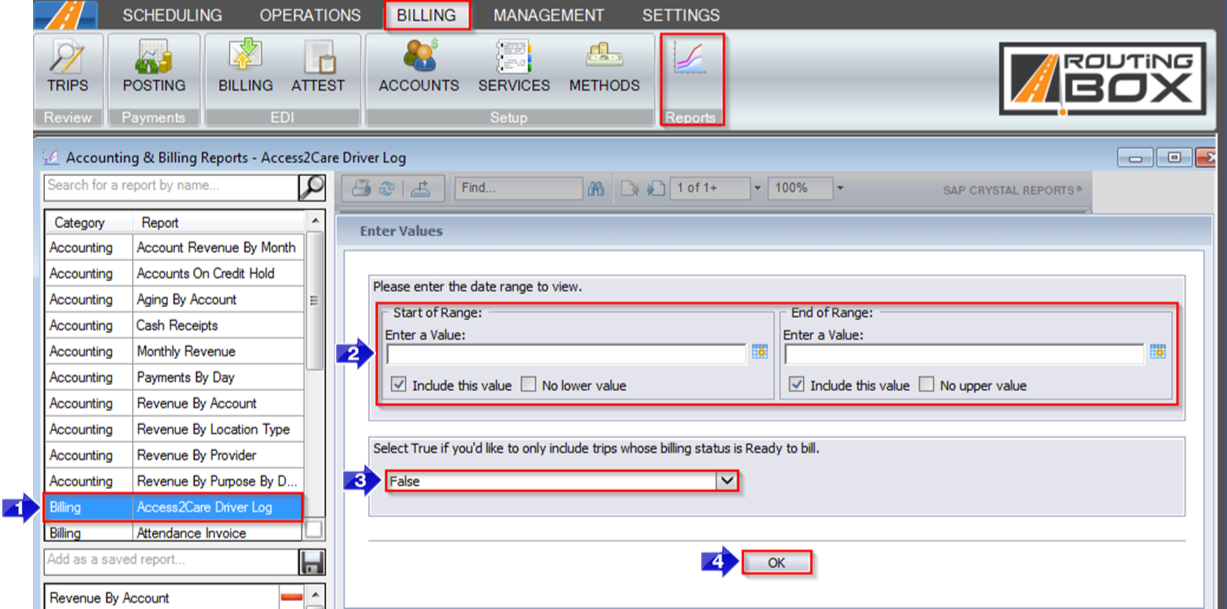 1. Double-click Access2Care Driver Log.
2. Click the calendar icons to select the beginning and end date.
3. Select True if you'd only like to include trips with the ready billing status. By default, False is selected and all trips will populate the report.
4. Click OK to generate the report.
1. Your Company Name.
2. The Vehicle Identification Number or VIN.
3. The Date the trip(s) took place.
4. Your Driver's Name and their Driver's License Number.
5. The Access2Care Trip #.
6. The name of the client displays in the Member's Name column.
7. The seating need code populates the Level of Service column. For example, A for ambulatory.
8. If your driver updated their trip status using RB Mobile, the pickup departure time will be displayed in the Pickup Time column.
9. The PU Address.
10. If your driver updated their trip status using RB Mobile, the drop off arrival time will be displayed in the Drop off Time column. If the client didn't show up, this column will say No Show.
11. The Destination Address.
12. If your driver collected the client signature using RB Mobile, it will populate as the Member Signature.
13. If your driver signs a pre-checklist using RB Mobile, the Driver's Signature will be displayed here.
If you're interested in RB Mobile, please contact BiTS Support by phone, e-mail or chat.
Related Articles:
Key Terms:
Access2Care, Billing, VIN, ReportingFormHelp