The Assignment Suggestion tool provides the information necessary for dispatchers to make an educated choice on which driver can be assigned to a trip.
Navigate to the Operations tab, then select the Dispatch icon.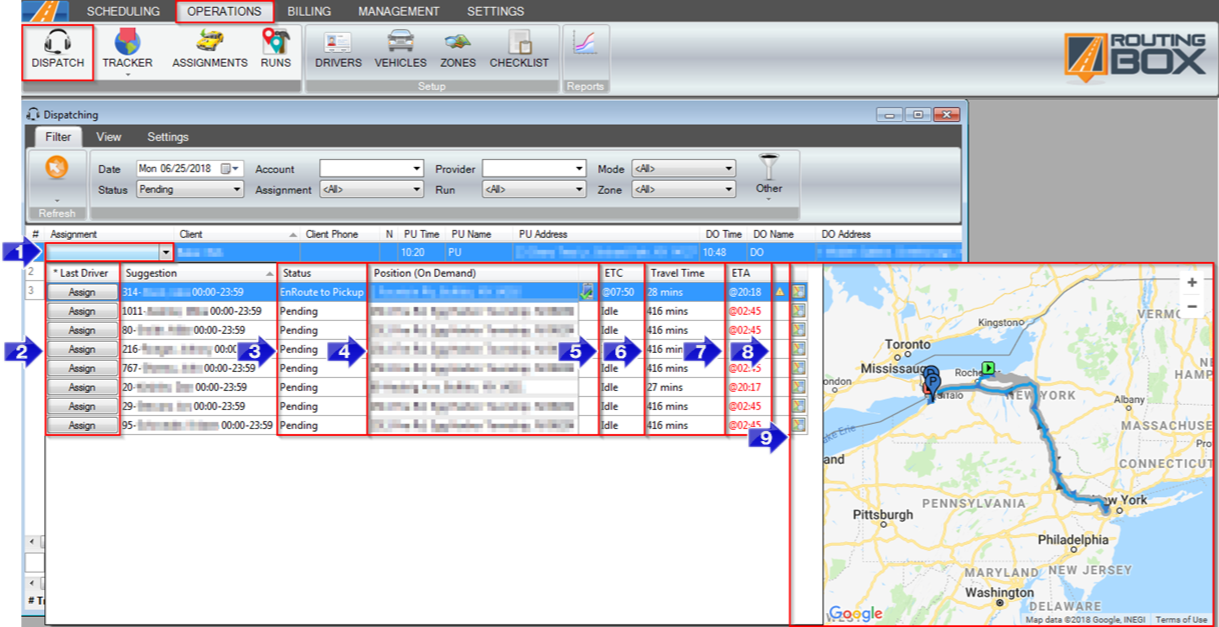 1. Right click an empty Assignment field for suggestions.
2. To assign a driver to the trip, highlight the suggestion and then select Assign. An asterisk on the Assign button indicates that this driver took this client the last time they were transported.
3. The Status displays whether a trip is in progress or has been completed. For those using RoutingBox Mobile, it will show the driver's most recent status update, i.e.: Arrived at Dropoff, En Route to Pickup.
4. This column will indicate the Position (On Demand). It is based on a Pickup or Dropoff address for the trip, or if there is a phone icon, the Position (On Demand) was from a recent RoutingBox Mobile update. The phone icon will only be displayed if the RoutingBox Mobile update occurred less than 3 minutes ago.
5. The ETC calculates the approximate time that all trips prior to the trip in question will be completed.
6. The Travel Time calculates approximately how many minutes it would take this driver to arrive at the pickup location, after all of their current trips are completed. If a driver is already at the location where they'd need to pick up the trip in question, it will show "On Site" in the Travel Time field.
7. The ETA displays an estimation of what time this driver could arrive at the pickup location. If the ETA is more than 15 minutes after the pickup time, it will be displayed in red to show that the driver would arrive late.
8. This column will show a yellow caution symbol if the driver has additional stops after this trip. Assigning this driver could cause conflicts later in their route.
9. In the last column, click the search map icon to see a snapshot of how the driver's route will be changed by the addition of this trip.
Video Link:
Related Articles:
How to Assign Vehicles
How to Create a Custom View
How to Dispatch a Trip
How to Switch a Vehicle
Key Terms:
Assign, Assignments, Dispatch, Driver, ETA, Map, Operations, Status, Suggestion, Vehicle, DispatchFormHelp