RoutingBox offers several billing file formats specific to particular brokers. This allows you to submit your claims to a clearinghouse's online billing portal, rather than having to print and mail paper invoices.
Navigate to the Billing tab, then select the Broker Billing icon.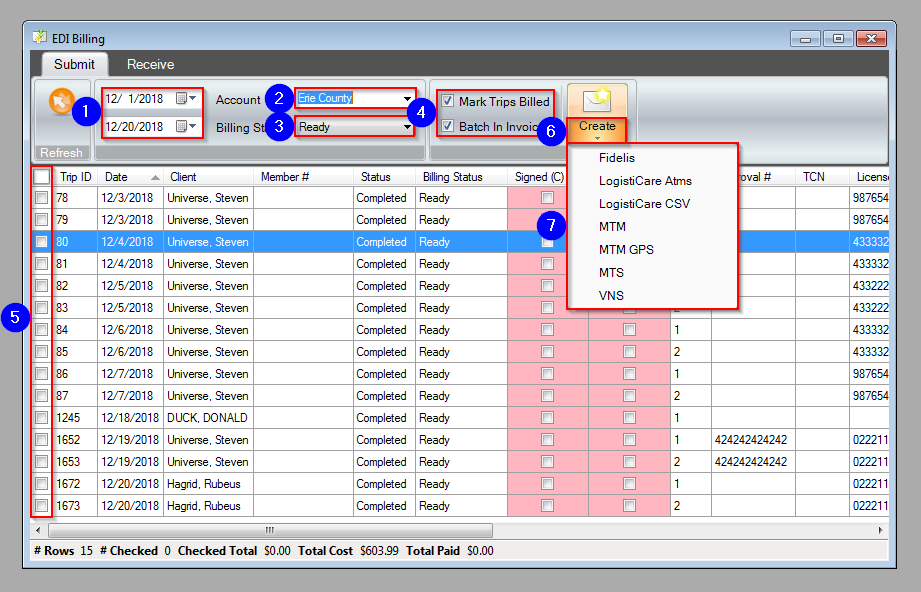 1. Select the Date Range you're creating a broker billing file for.

2. Start typing the name of the Account you would like to bill. Then, select the Account from the drop-down.

3. Select the Billing Status of the trips you would like to view in the grid. The default status is Ready.

4. Select to Mark Trips Billed or Batch in Invoice. If Batch in Invoice is checked, an invoice line will be created for the Account.

5. Check the trips you would like included on the billing file. The checkbox in the column header will check all trips in the grid. Please note, any trip with information highlighted in pink requires attention prior to creating a broker billing file.
6. Click Create.
7. Choose the desired file format from the drop-down.
8. Enter a File name, unless you selected the LogistiCare Atms option.
If LogistiCare Atms is selected, you will be prompted to enter your LogistiCare credentials. Trips in the grid will be sent to LogistiCare's portal.
9. Click Save. You will now be able to upload the saved EDI file to the clearinghouse's billing portal.
Related Articles:
How to Search for an Invoice Number
CMS 1500
How to Assign Billing Codes and Rates
How to Load an Electronic Remittance
How to Review and Change the Billing Status of a Trip
Invoices
Key Terms:
837P, Billing, EDI, Electronic, Essentials, Fidelis, MTM, MTS, VNS, Submission, EdiBillingFormHelp, LogistiCare, Broker