The Driver Trip Manifest can be used as a dispatch log with a spot for driver attestation or as a report of completed trips for a specific date.
Navigate to the Operations tab, then select the Reports icon.
Double-click Driver Trip Manifest.
Click the calendar and select the date you would like to view.
Select True to display a Dispatched To column containing the vehicle and driver assigned to the trip. Select False to display a Signature column for the client and blank lines for the License #, Vehicle #, Plate #, and Driver's Signature.
Choose the driver you would like to view from the drop-down menu.
Select True if you would like the client's member # to be visible.
Choose whether you would like to view the Scheduled Pickup Time, Scheduled Pickup & Dropoff Times, or Actual Times from the drop-down menu.
Click OK to generate the report.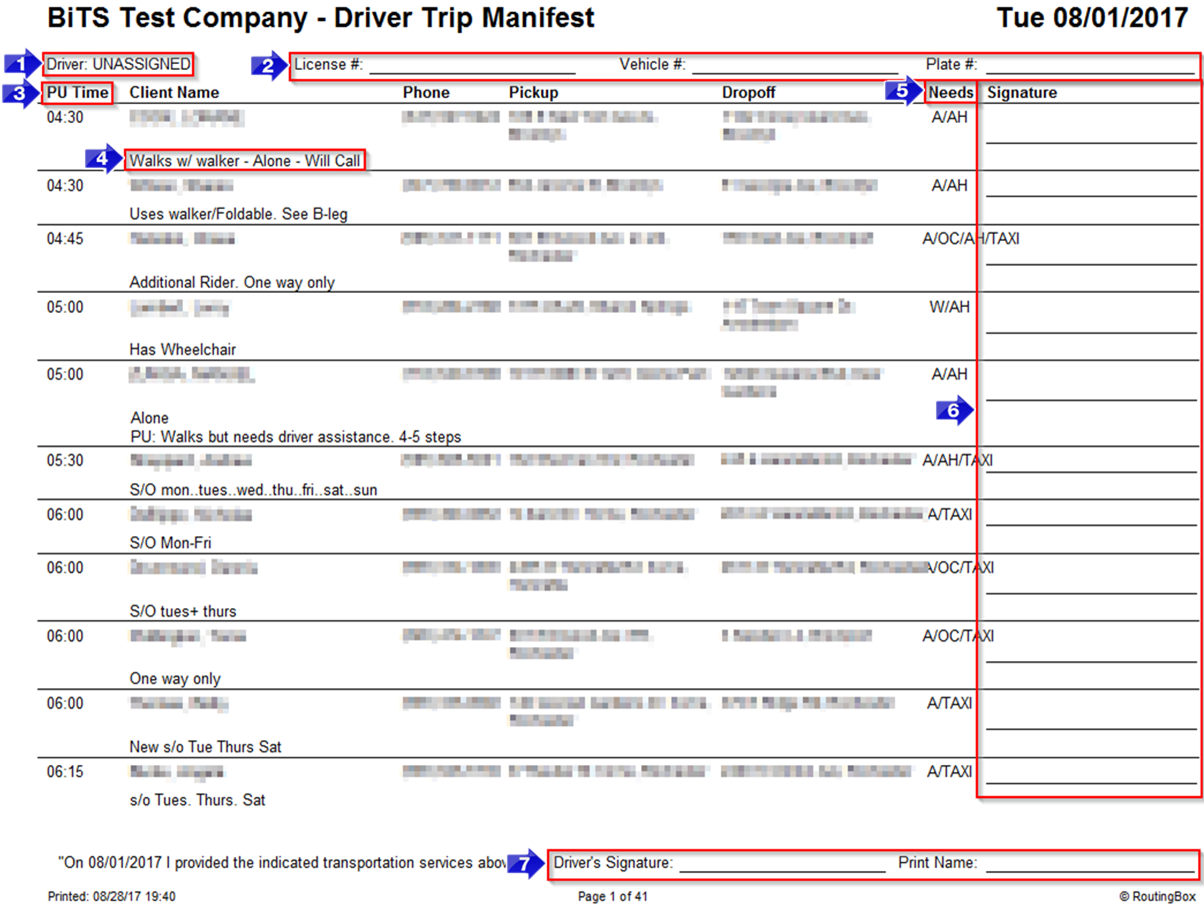 The name of the Driver will be displayed here. If you didn't choose a driver, this will say UNASSIGNED. If you chose to view the master list, this will say MASTER.
If a driver is assigned, their information will be displayed in these fields. If there is no assigned driver, these fields will be blank.
The PU Time, Scheduled Pickup & Dropoff Times or Actual Times will be displayed in this column, depending on the filter selected.
Actual Times will only populate if your drivers update their trip status using RoutingBox Mobile.
Any notes visible to the driver in the Client Profile or Trip Scheduling screen will populate here.
The need codes applied to this trip will be displayed in the Needs column.
If your drivers use RoutingBox Mobile to collect driver or client signatures, they will populate in the Signature column on this report.
If your drivers use RoutingBox Mobile to sign a pre-checklist for the day, the signature captured will populate in this field.
Contact Support for more information on RoutingBox Mobile features.
Related Articles:
How to Copy Assignments to Another Date
Key Terms:
Actual DO Time, Actual PU Time, Client, DO Time, Driver, License #, Manifest, Member #, Phone, Plate #, PU Time, Report, Signature, Vehicle #, ReportingFormHelp