RoutingBox allows you to choose how much of a trip should be paid before the trip's billing status changes to Paid.
Navigate to the Settings tab, then select the Settings icon.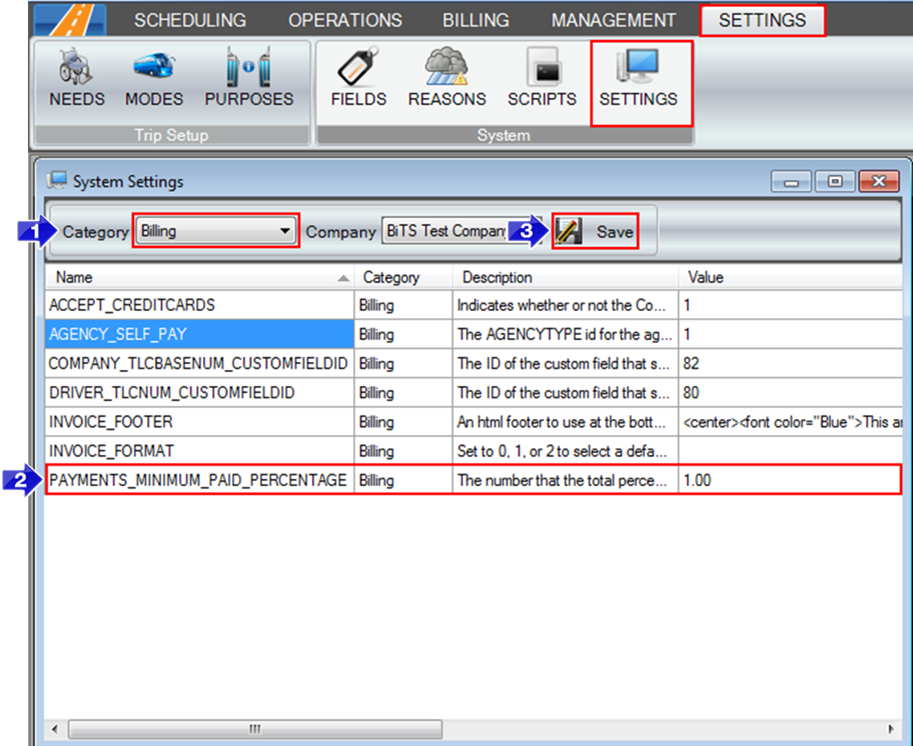 1. Change the Category to Billing.
2. Change the PAYMENTS_MINIMUM_PAID_PERCENTAGE setting to the value of your choice. The Value needs to display as a decimal. For example, 1.00=100%, 0.99=99%.
3. Save your changes.
If the minimum paid percentage is set to 100%, a trip will not be marked as Paid until the trip is fully paid. If the percentage is set at 50%, a trip will be marked Paid once half of the payment has been received. Trips marked as Paid will not display in the Posting Payments screen.
Related Articles:
How to Post Payments
How to Change the Billing Status of a Trip
EDI Billing
How to Recall a Payment
Key Terms:
Settings, Minimum Paid Percentage, Posting Payments, Billing Status, Paid, Billing, Full Amount Not Paid, PaymentPostingFormHelp