An Account, also known as an Agency or Payer, is the business or entity that pays for a client's trips. You may need to create an Account for a specific county of Medicaid, an HMO, or a Hospital.
Navigate to the Billing tab, then select the Accounts icon.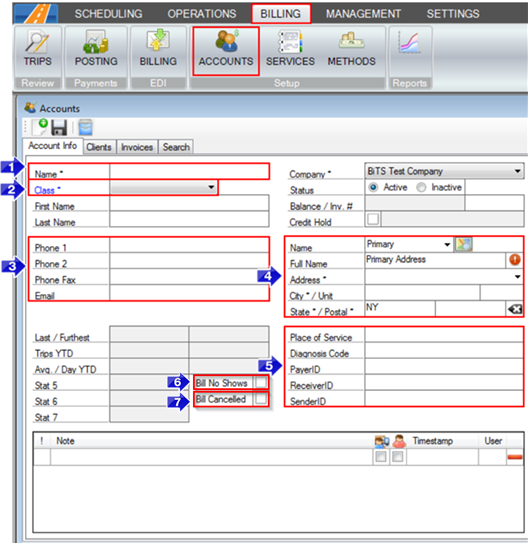 Name Class 3.
1. Enter the Name of the Account. This is the name that will generate on invoices.

2. Select an account Class to categorize the type of account. Common account class types are HMO, Medicaid, Hospital, Nursing Home, Contract/Private, and Self-Pay.
3. Enter contact information for the account.
4. Enter the billing Address to be reflected on this account's invoices.
5. Payer ID, Receiver ID, Sender ID, and Diagnosis Code may be required when billing electronically for some accounts.
6. If you would like No Shows to appear on your invoices, check Bill No Shows.
7. If you would like Cancelled trips to appear on your invoices, check Bill Cancelled.
Video Link: