Before trips can be dispatched, assignments need to be created for the day. The Assignments screen allows you to create new assignments, copy assignments from other dates, and assign drivers to their typical routes.
To Create Assignments: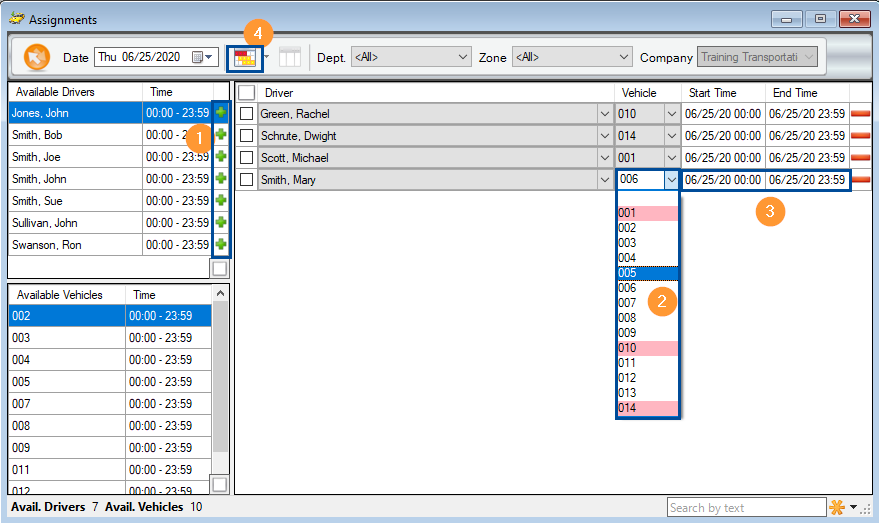 1. Click the green plus sign to the right of the driver you'd like to assign from the Available Drivers list. This will bring the driver's name into the main grid.
2. Choose the vehicle from the Vehicle drop down.
3. The Start and End Times can be adjusted here.
4. Clicking the red and yellow calendar icon to open a menu. From here, you can Copy Driver/ Vehicle Assignments from Date, Copy Trip Assignments from Date, Assign Typical Routes by Driver, or Assign Typical Routes by Vehicle.
Related Articles:
How to Copy Assignments to Another Date
How to View What RoutingBox Mobile Version a Driver Has
How to Auto Assign Drivers or Vehicles to Routes
How to Switch a Vehicle
How to Assign Vehicles
Key Terms:
Assignments, AssignmentsFormHelp, Driver, Vehicle, Typical Vehicles, Assign Routes, Mobile Version, Odometer, Sign-Off, Department, Start Time, End Time