MedBatch provides tools to help you address claim denials.
If a claim is Denied, there are two ways to review the denial error code in MedBatch.
Method One:

1. Change the Status Filter drop-down to Denied.
2. Choose the date range using the Claims From and Claims To fields.
3. The Errors column will be displayed in the Claims Grid. This field will show the denial error code applied to that claim by eMedNY. You can hover over the error code to read a brief description of why the error code was applied.
Method Two:

1. To review denial error codes, click on the Paid field of a claim. The Manage Payments and Errors window will open.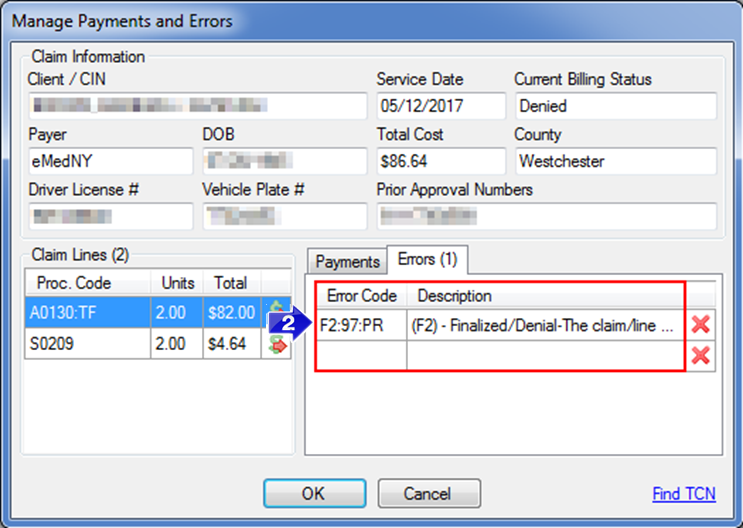 2. The Errors tab will display the Error Code provided by eMedNY and a Description.
Error Codes are only applied to claims with a Pended or Denied status.
For more information regarding Denied or Pended claims and denial error codes, contact eMedNY at: 1-800-343-9000 or visit emedny.org .
Related Articles:
Why Did My Claim Deny
How to Address a Denied Claim
How to Tell What Didn't Get Paid
What is a Pended Claim
How to Find Pended Error Codes
Key Terms:
Denied, Denials, Deny, Denial Error Codes, Error Code, Errors, Manage Payments and Errors