Overriding a trip gives you the ability to manually change the Price, Codes or Units on a trip, directly affecting how it will appear on an invoice.
Navigate to the Trip Scheduling screen.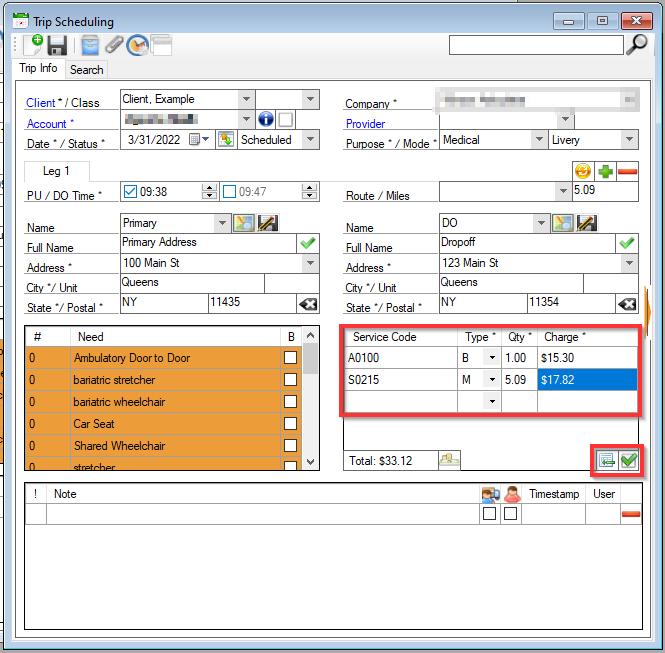 1. Search for the specific trip by entering a client name or trip ID into the Search field.

2. To override a trip, first click the box to toggle between one leg and all legs of the trip.

3. Next, click the check box in the bottom right corner of the services grid. If this trip is already overridden, this check box will be filled with a green check mark. Unchecking this box will return it to its original Codes, Quantity and Charges.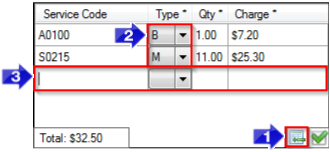 1. When a trip has been overridden the services grid will automatically change from the trip view to the single leg view. This means each leg needs to be adjusted individually.
2. The type can be adjusted by using the drop-down arrows and selecting the type of charge. Below are some examples of codes that can be used in this field.
B - Base is used for the cost of the trip itself.
M - Mileage is used when charging an additional amount for each mile the vehicle traveled.
N/O/A – Need, Other and Admin are used for a new code in addition to the Base, such as surcharge, assistance, etc.
T - Tax can be used for charging tax on trips.
3. During an override, a new blank row will appear and you will be able to edit any of the existing rows. To add a new Service Code to this trip, enter it in the blank row.
4. Save

your changes on the Trip Scheduling screen to update the information.