GPS Location can be found in Tracker History or Tracker Audit. Tracker History shows the driver's location from any given date on a map, and highlights the status updates/signature captures made by that driver using RoutingBox Mobile.
Navigate to the Operations tab, then select Tracker History from the drop-down.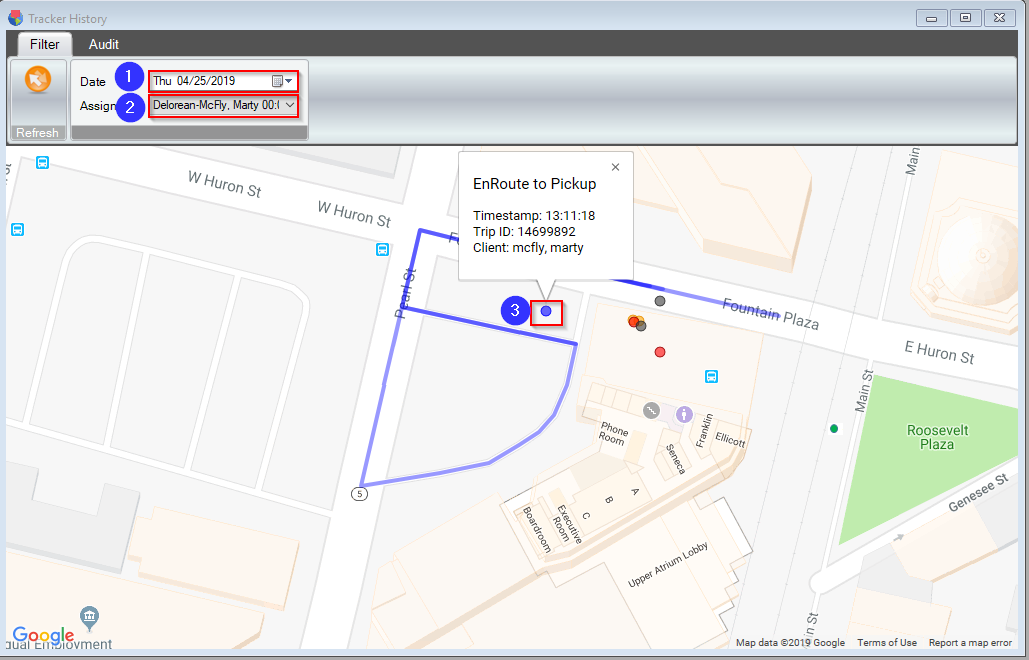 1. Select the Date you would like to view.
2. Select an Assignment from the drop-down. The window will automatically refresh with the route taken by the driver/vehicle.
3. Click a circle icon to review the status change, Timestamp, Trip ID, and Client name from that occurred at that location.
Zoom and scroll on this screen to follow the map outline of the driver's day.
Key:
Green

- Login
Orange

– Arrived at Pickup, EnRoute to Dropoff (Trip in Progress)
Red

– Arrived at Dropoff, Completed, NoShow (Trip Ending)
Gray

– Signature Captured (Shows Client Name if Applicable)
Related Articles:
How to Remove GPS Ping Data
How to Search for an Address
How to Use the Tracker
Key Terms:
Assignment, Driver, Ping Data, Status, Tracker History, Vehicle, TrackerFormHelp