The Client Stats feature can help dispatchers identify clients that may be at risk for canceling or not showing up for a scheduled trip. This tool runs each night to bring you the most up to date results.
For more information, watch the short video below or contact our team today!
Set Up:
There are two settings that can be adjusted to meet your specific needs. Navigate to the Settings
tab, click the Settings button, and filter for the category Client Manager.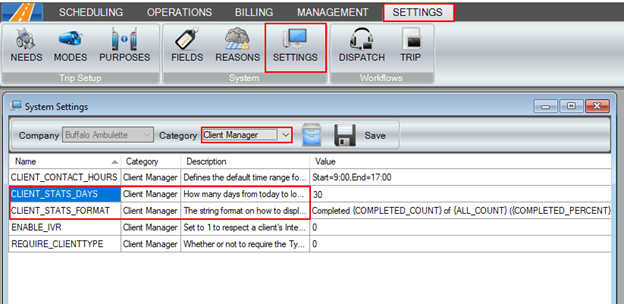 1. CLIENT_STATS_DAYS: How many days the tool should look back to calculate client stats. This setting will default to 30 days, but you can enter a maximum of 90 days.
For example, if a client has 15 trips that were scheduled in the last 30 days, we will look at those 15 trips to calculate their statistics.
2. CLIENT_STATS_FORMAT: The string format that data will appear in the client stats field.
The data displayed to the dispatcher can be customized to meet your needs.
Client stats can show a combination of the following:
the number of completed trips
the percentage of completed trips
the number of canceled trips
the percentage of canceled trips
the number of no show trips
and a percentage of no show trips
Your Customer Success Manager can assist you with setting up these options!
To Use:


Once you have the settings adjusted to your liking, you can see the Client Stats information by customizing your view to include the "Client Stats" column in the dispatching screen. Client Stats is just like any column in the Dispatching screen. It can be easily shown or hidden and added to your pre-saved views.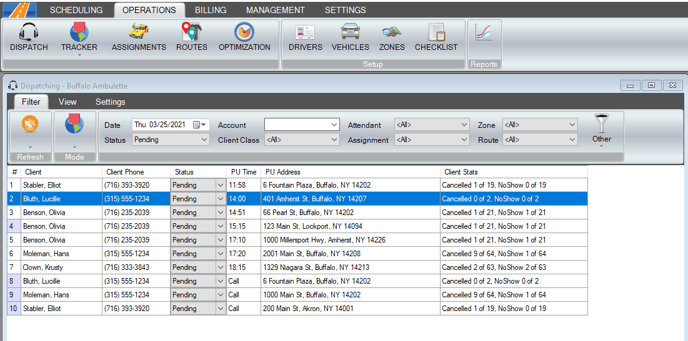 Above: The Client Stats column in Dispatching shows statistics in both a percentage and number of their trips that were completed, cancelled, and no showed for the past 90 days.