RoutingBox allows you to import trips directly from MAS without going to the MAS website or typing in a password. Using an API connection, data can be sent to and received from MAS.
In RoutingBox Desktop:
Navigate to the Scheduling tab, then select the Importer icon.

1. From the "Account to Import" dropdown, choose Multi-Account, or type the Account to Import.
2. Click on the little drop-down arrow to the right of the Source: Choose Import File button and Select MAS Direct Connection from the dropdown.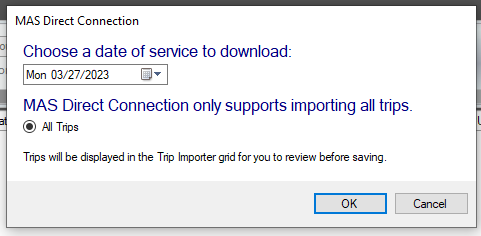 If your company has multiple API Keys, choose the correct key from the dropdown. Contact Support if you have multiple API Keys but only one is set up in RoutingBox.
3. Choose the date of service to download.
4. Press OK after you have made your selections.
5. Review the trips in the importer grid. If necessary, changes to trip information can be made here before importing. (Communicate with your broker to understand what trip changes are permitted)
6. Select Import Trips. Any trips without errors will import into RoutingBox.

Related Articles:
Account Code Mapping
How to Import Trips
Importer Alerts
Importer Settings
Key Terms:
Account Code Mapping, County Code, County Mapping, Download, Importer, MAS, Medicaid, TripImporterFormHelp