How to bill the Southeastrans Secure FTP portal from RoutingBox
1. Open the ATTEST window under the Billing tab
2. Select a start and end date for your billable trips

3. Select the Southeastrans Account (this can vary depending on how you've named this account in RoutingBox)

4. Select the Refresh button if the grid does not populate

5. Select the trips that should be billed by clicking the checkbox to the left of each trip row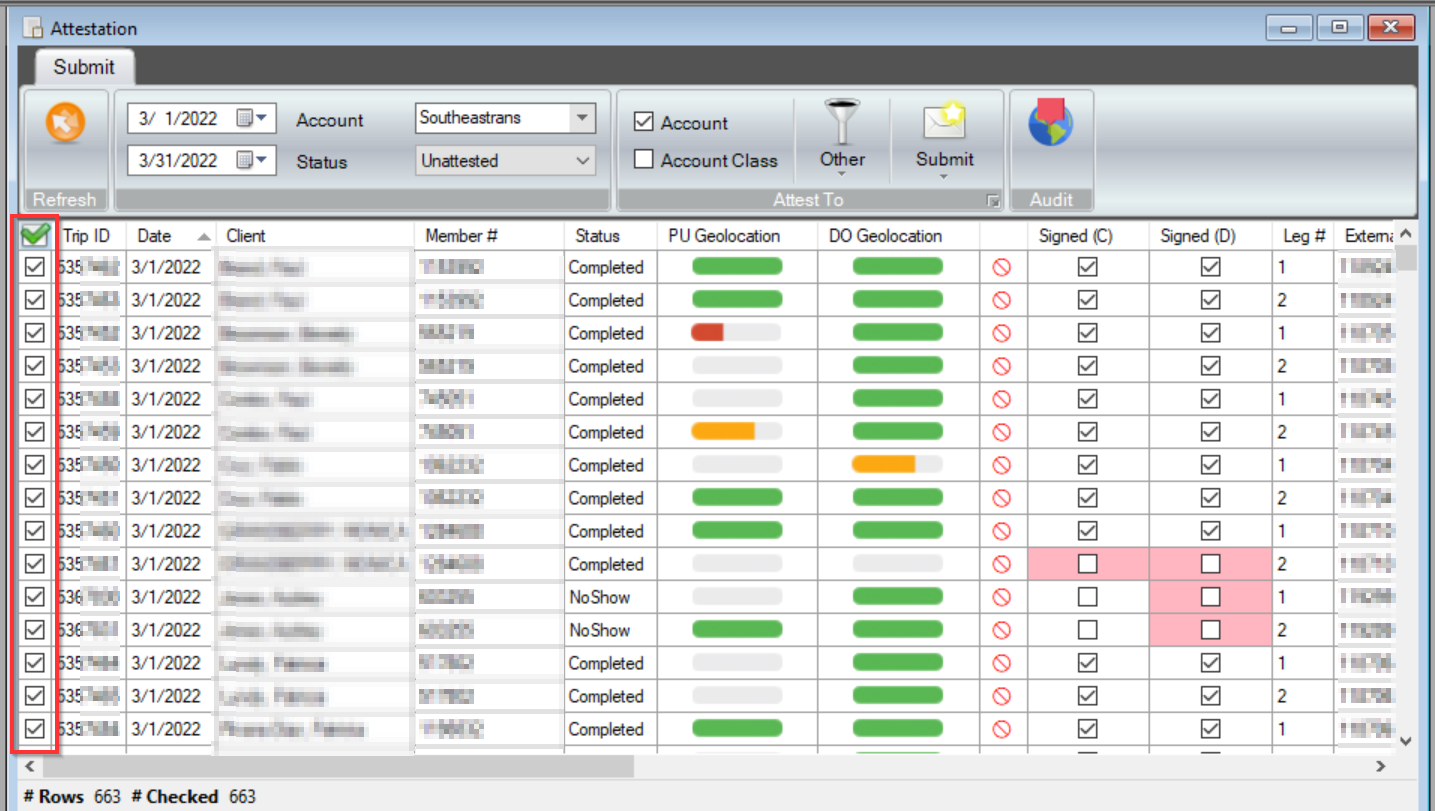 6. Select the drop down arrow under the Submit icon and click Southeastrans CSV

6a. The following warnings may appear:
"
One or more of the selected trips does not have enough geolocation data around the Pickup/Dropoff's ping to be sure of the driver's location. Are you sure you want to attest to these trips
?"
Select the check box for 'Yes, I am sure'
Click Yes
7. This will bring up a Southeastrans CSV Settings window. Select the desired options and click OK: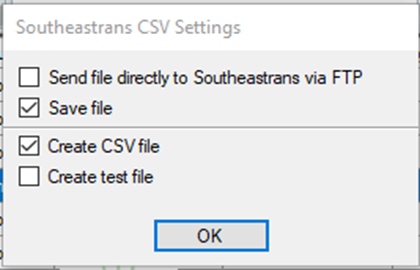 Note
: This will trigger RoutingBox to access your company's SE Trans sFTP site, find the driver file and attempt to parse the file. The driver file is a csv file that contains the Southeastrans
DriverID
,
Driver's Last Name
,
Driver's First Name
, and a
Mobile ID.
RoutingBox will use the driver's First Name and Last Name on the SETrans file and compare those to the Drivers saved in RoutingBox

If a match is found, the Southeast Trans ID Custom field will populate with the ID Number in the Southeast Trans File
If the Driver file could not be found or there was an issue reading the file an error message will be generated. The SE Trans portal can be logged into to find the Driver file and determine the cause of the error.

If there are any other errors generated at this point please reach out to Support for assistance
Downloading the Response File
Note: You will need to log in to the sFTP to check if the billing file has been accepted with no errors or if there are any errors on the file. You will need to use your SETrans FTP username and password (not your regular SETrans portal credentials)
1. Log into the SoutheasTrans sFTP Website
2. Once logged in go to Files -> Response


From there you can either download the file or view in your browser.
If there is no response file, the file most likely did not process successfully, please contact support
If the file was processed successfully the following message will appear:
"File processed with no validation errors!"
If the file was not processed successfully, Column A will display the SouthEast Trans trip ID and Column B will display any errors in the file for each submission that has an error.
Possible errors include: InvalidVehicleVin, PreviouslySubmittedLegId
Note on PreviouslySubmittedLegId errors: This error will get returned for any trip that was previously billed, no matter if it was billed via RoutingBox or not. These errors can also show up twice for the same trip in the response file.