In the Services screen, a required field for each code is the Mode field. The Mode column designates which type of Vehicle was used for the trip.
Navigate to the Billing tab, and select the Services icon.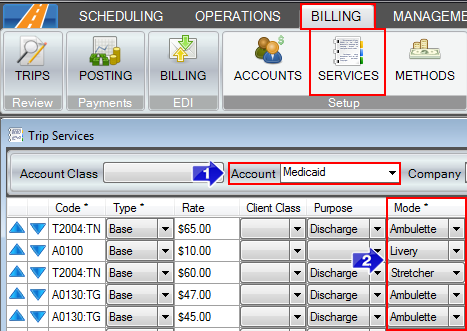 1. Select the Account you wish to edit.
2. The Mode can be selected by choosing from the dropdown menu.
By default, 3 Modes are available:
Ambulette - a van typically meant for transporting clients in wheelchairs or ambulatory clients that need assistance.
Livery - a car specifically for clients who can walk (ambulatory).
Stretcher - a van specifically for clients who need to be moved by stretcher.
Key Terms: Modes, Billing, Services, Trip Services, Ambulette, Livery, Stretcher, Vehicle, TripServicesFormHelp