In the Services window, the Seating Need column is used to designate the type of "seat" that a client occupies: wheelchair, stretcher, or ambulatory.
Navigate to the Billing tab, then the Services icon.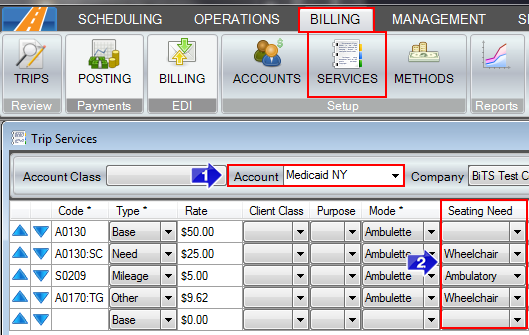 1. Select the Account that you wish to edit.
2. Select the Seating Need that corresponds with the Code. Seating Need can be left blank, like in the example of A0130. The same Code and Rate can be used if this trip is Ambulatory or Wheelchair.
Related Articles:
How to Create a Need
How to Create a Mode
How to Create a Vehicle
How to Assign Billing Codes and Rates
Key Terms:
Seating Need, Code, Rate, Account, Services, Billing, TripServicesFormHelp